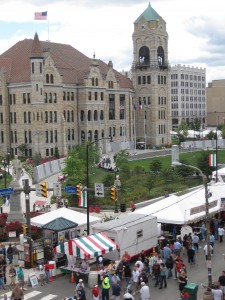 SCRANTON, Pa.— Great food, live entertainment and fun for everyone are on the menu for the annual La Festa Italiana to be held Saturday-Sunday-Monday of Labor Day weekend, Sept. 1-2-3, on Courthouse Square in downtown Scranton. This is La Festa's 37th year.
The three‑day festival is an end‑of‑summer tradition that annually attracts thousands of visitors. Hours are Saturday and Sunday 11 a.m. to 10 p.m., and Monday 11 a.m. to 9 p.m. Admission is free.
La Festa Italiana will literally hit the ground running with the Capt. James R. Minicozzi Memorial 5K Run/Walk on Saturday, Sept. 1. The race is being sponsored by the Scranton Chapter of UNICO, the Italian-American service organization, and proceeds will benefit UNICO charities. Registration for the race will be held from 8 to 9:30 a.m. at the corner of Linden St. and N. Washington Ave. in downtown Scranton. The entrance fee is $20.
The race begins at 10 a.m. at the corner of Lackawanna Ave. and Wyoming Ave., where it continues to Green Ridge St., then on to N. Washington Ave. and ending at Scranton City Hall.
La Festa Italiana has something for everyone. As usual, approximately 80 vendors will offer a wide variety of foods and displays. Italian favorites are cooked and served daily, presenting festival goers with the dilemma of which tempting dish to try next. This year marks the return of the Cappuccino Café to its traditional location on the N. Washington Ave. plaza.
Continuous live entertainment for both young and older tastes is presented on two stages during the afternoon and evening each day.
This year's featured performer is Dean Martin impersonator Andy DiMino, who will take the stage on Monday, Sept. 3, at 7:30 p.m. Among the many other acts that will perform are Carmello the Singer, Italian tenor Christopher Macchio, comedian Uncle Floyd, Los Vega, The Poets, King Henry and the Original Showmen, the Hi-Lites featuring Pat Aita, the Italian Continentals, and the Frank Sinatra Tribute featuring Chris DiMattio and the Brass & Ivory Orchestra.
The annual Mass in Italian will be celebrated at 10 a.m. on Sunday, Sept. 2, in St. Peter's Cathedral, located one block from the festival site. The Most Reverend Joseph C. Bambera, D.D., J.C.L., Bishop of Scranton, will preside and give the homily. The Mass will also be televised live by CTV: Catholic Television of the Diocese of Scranton.
For more information and updates, visit the festival Web site at: www.lafestaitaliana.org.
Festival patrons are also invited to Lackawanna Railfest '12, hosted by the nearby Steamtown National Historic Site Sept. 1-2. Shuttle transportation will be provided between La Festa and Steamtown. For details on Railfest, visit www.nps.gov/stea.