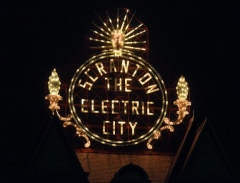 Courtesy of The Times-Tribune by David Singleton. 
July 2, 2014
La Festa Italiana of Lackawanna County will contribute up to $10,000 to renovate the Electric City sign overlooking Courthouse Square before the annual Labor Day weekend celebration of Italian culture and cuisine.
Chris DiMattio, La Festa president and chairman, said the organization looks for community projects it can take on and thought the Electric City sign would be a natural.
The sign is part of the La Festa Italiana logo and is featured on its website.
"It's such a prominent part of the city's history," Mr. DiMattio said. "It really has been a large part of the image not only of the city but of that whole (La Festa) weekend."
MAC Sign Systems, which did the original restoration of the sign in 2004, will handle the work, Mr. DiMattio said.
The project will include replacing the existing bulbs with new LED lighting, he said.
Standing atop the Scranton Electric Building on Linden Street, the sign spells out, "Scranton, The Electric City," in lights.
However, numerous bulbs in the elaborate display are burned out, which city and civic officials acknowledged last month reflects poorly on the city.
The three-day La Festa Italiana, which brings tens of thousands of visitors into the downtown each Labor Day weekend, will open on Saturday, Aug. 30.
Mr. DiMattio said he anticipates there will be some sort of event the night before on Aug. 29 to unveil the renovated sign.
Courtesy of The Times-Tribune, written by David Singleton.  
Contact the writer:
dsingleton@timesshamrock.com