Times Tribune
BY PATRICE WILDING / PUBLISHED: AUGUST 25, 2016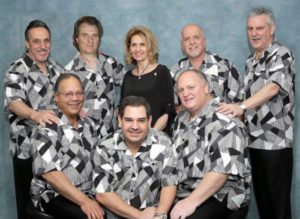 SPECIAL TO THE TIMES-TRIBUNE The Cameos, an oldies and vocal harmony group from New Jersey that features Scranton native Paul Stuart, pictured at far right, as bandleader, will perform at La Festa Italiana Monday, Sept. 5, at 5 and 6:30 p.m. on the main stage.
 From its humble beginnings as a single-block festival 41 years ago, La Festa Italiana grew into a destination event for locals, out-of-towners and homecoming natives.
The Labor Day weekend festival now features more than 80 food and craft vendors, as well as dozens of regional entertainment acts, spread out over three stages and four blocks surrounding Lackawanna County Courthouse Square in downtown Scranton.
Set for Friday, Sept. 2, through Monday, Sept. 5, La Festa also offers plenty of family-friendly activities for revelers of all ages, including a benefit 5K/1-mile walk/run, cannoli-eating contest, yoga with glow sticks and a Mass in Italian.
For Paul Stuart, the occasion represents a special chance to share his talent with the city where he was born.
As the bandleader for The Cameos, an eight-piece oldies and vocal harmony group from New Jersey, Mr. Stuart puts his own spin on memorable tunes from the 1950s through the early 1970s.
"We're a very energetic oldies group, not the type of group that puts you to sleep," Mr. Stuart said. "We do all the artists people can relate to, Johnny Maestro (& the Brooklyn Bridge), Larry Chance and the Earls, Elvis, The Platters, The Doves."
Mr. Stuart was raised in the Electric City until he was five years old, when his father's job relocated the family to the Garden State. He still has plenty of family that lives in Scranton and Dunmore that he visits often, and they encouraged him to join La Festa's musical lineup for years.
Finally, fate intervened when a group of UNICO National Scranton Chapter members caught his act and spoke to him after he stepped down from the stage.
"They came right over to me and said, 'We have to talk to you,'" Mr. Stuart recalled. "I've been waiting so long for this. It's like a dream come true.
"I just want to come back home and give everybody in Scranton, where my roots are, a hell of a show," he said.
The Cameos play the main stage on Monday, Sept. 5, at 5 and 6:30 p.m.
Joe Guido, vice president of La Festa Italiana's volunteer committee, said he's thrilled to welcome the band to the bill, and said they're one of many reasons thousands flock to the city for the annual event.
"There's tons of tradition, camaraderie, good food and good friendship," Mr. Guido said. "We get busloads of people who come in to see all the sights and sounds. It really is a wonderful time."
Contact the writer: pwilding@timesshamrock.com, @pwildingTT on Twitter.
If you go
What: La Festa Italiana
When: Friday, Sept. 2, 4 to 10 p.m.; Saturday. Sept. 3, and Sunday, Sept. 4, 11 a.m. to 10 p.m.; and Monday, Sept. 5, 11 a.m. to 8 p.m.
Where: Lackawanna County Courthouse Square, downtown Scranton
Details: Admission is free to the festival. The Cameos perform Sept. 5 at 5 and 6:30 p.m.on the main stage. For more information and the complete schedule, visitwww.lafestaitaliana.org.