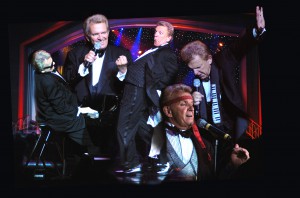 There has never been any doubt in Bobby Arvon's mind that being an entertainer was the career he was destined to follow. Bobby was born in Scranton, Pennsylvania. Mother, Ann (formerly Don Vito) and Angelo Arvonio.
Mr. Arvon started singing at the young age of 3 ½ years old his father Angelo, who was a musician and singer, was Bobby's first influence along with much help and guidance from mother Ann. It's with this backing that Bobby and his brothers Pat and Angelo, grew up with a great love of music. Pat and Angelo, are also very successful musicians and singers along with songwriting. Throughout his early years in Scranton, Bobby performed at St Lucy church shows and various other local productions. He credits his many relatives in Scranton in those early days, with helping to instill confidence in his ability's as a performer, through their support and encouragement.
As a youngster he was the featured singer with the Tony Grant Stars of Tomorrow Traveling Troop. This eventually led to being featured on Tony grants show in Atlantic City at the Steel Pier. He remembers a highlight when he personally met Johnny Ray and was asked to perform on stage with him later that evening in Johnny's show. Bobby continued his performances throughout his high school years in Bridgeport Connecticut. He formed his own band, and was soon singing and playing piano at dances and eventually nightclubs. After graduating high school he was heard performing by a disc jockey, Tiny Markle, who personally took Bobby to meet and audition for Larry Elgart in New York, of the Les and Larry Elgart Orchestra. Bobby jumped at the opportunity and got the job as featured vocalist with the orchestra. He toured all over the USA and Canada with Elgart.
While performing in Halifax Nova Scotia Bobby met the love of his life, his wife Judi. They were married in Halifax and have 4 daughters, Christina, Samantha, Suzanne and Melody. It wasJudi who suggested to Bobby that he take a stab at writing songs, which was something Bobby had not pursued up to this point. This was to be the start of a very valuable part of Bobby's future recording career.
As the years progressed, so did Bobby's career nicely. He continued to perform and eventually recorded his first album ' New Man In Town.' It was Richard Behrke, who had recently worked as Bobby Darin's Musical director, who brought Bobby to MTA records. It was through this albums success that Bobby started to host numerous TV and Radio shows for the CBC in Canada for many years following, Ann Murray was a frequent guest and Co Host on many of these shows with Bobby.
While living and performing in Halifax, Bobby received a call form an agent that had been given Bobby's LP ' New Man In Town,' by his brother Pat. He informed Bobby that Harry James would like to have him join the orchestra as featured singer.
The next day Harry James personally phoned and Bobby became the featured singer with the Harry James Orchestra. This provided the opportunity to open in Las Vegas for the very first time in his career.
Through out this period, Arvon's direction creatively began to expand and his songs found there way to contacts with publishers and on recordings of various artists such as Frankie Laine, Jack Jones, The Fifth Dimension, TG Shephard to mention a few. Mr. Arvon's first recording contract as a singer/songwriter came after a studio demo session for the late Sammy Davis Jr, where he was introduced to Mike Curb, President of MGM records and Don Costa, A& R director at MGM.
After some success at MGM, Bobby was signed to a new contract By Gary LeMel with the LabelFirst Artists records, which was owned by Barbara Streisand, Steve McQueen, Sydney Pottier, Dustin Hoffman and Paul Newman. It was this venture that produced Bobby's first chart record the self penned "Until Now', which was also the title of his LP.' Until Now' stayed on the record charts for a solid 17 weeks. It was one of the most exciting times for Bobby. Says Arvon "As a performer and recording artist, Its one thing to sing someone else's songs and interpret their music and lyrics, adding my own concepts and hopefully, sensitivity, but it is even a greater and more rewarding experience translating my own version of life into words and music that I have created and composed. " I had never really thought of myself as a songwriter" but my wife, Judi encouraged me to put my thoughts into lyrics and music" I will always be grateful for the confidence she gave me then and now, as a writer.
Having been a signed writer to Screen Gems (eventually EMI) proved to be an invaluable experience and very instrumental in promoting the original songs by Arvon.
With his recordings being played nationally, he was asked to appear on Dick Clark's American Bandstand, Merv Griffin show, Dinah Shore, Mel Tillis and other appearances both in Concert and on Television.
After a Recording of Bobby's original song "Later On" produced by David Foster and Humberto Gatica, " Later on" was submitted to the American song Festival and won a first prize in the professional easy listening category, leading to more recordings and numerous commercials for radio and TV, as singer, writer and producer. He was also the lead voice on the original "Oh What a Beautiful Morning' theme for CBS this Morning news.
It was to be during a studio session for Charles Fox, a very popular and successful television theme composer, that Bobby was asked by Mr. Fox to become the new singing lead, of the very popular theme song for the ABC TV series "Happy Days". It was a thrilling and memorable moment for Arvon when he walked into the studio to sing 'SUNDAY, MONDAY, HAPPY DAYS, TUESDAY, WEDNESDAY, HAPPY DAYS ETC. It would be become a very popular part of Bobby's live performances all over the country and still continues to be so.
"We wanted to bring a fresh approach to the theme song with a new vocal sound and contemporary intrumental colors, yet leave the basic feel in the 1950's style"–notes the themes composer Charles Fox. "Bobby's voice and musicianship were the perfect choice for our new sound".
Bob Lorsch, Bobby's manager at the time, introduced Arvon to Atlantic city which eventually led to many casino performances in the area. Caesars Atlantic City being one of the first. "Hooked on Music" was a show in which Bobby, Starred In and Produced at the Showboat in Atlantic City, after which Bobby would be seen frequently performing through the years at the Hotel and various other Atlantic City and Las Vegas Casinos. These performances led to offers fromRoyal Caribbean Cruise Line and other cruise companies for Bobby to appear on their ships doing his own show. "It is a wonderful way to interact with the public and also get to travel the world," says Bobby of the cruise ship venues. The theatres or showrooms are very state of the art and the ships are beautiful. It's a great way to travel, and do what I love most LIVE PERFORMING, with the guidance of my wife Judi , who is my production manager and is one my most important assets. Judi and I work hand in hand in putting my shows together . The bonus is we travel together and love meeting new people and seeing different parts of the world.
One of Arvon's recent concert appearances featured Bobby with the 61 piece Northeastern Pennsylvania Philharmonic. His two night 2 hour performances were received to standing ovations and the reviews were outstanding. "Truly a highlight in my career" says Arvon.
His "Living the Happy Days" cd was produced by Bobby and his wife Judi Arvon, and is a live performance collection.
Being on stage is fulfilling part of the dream of a lifetime for Bobby. His energy abounds when he hits the stage, and he is totally dedicated to bringing his honesty and dedication to the music, along with laughs and fun with his audiences. Arvon says people enter a theatre to be entertained have fun and forget about their own, and the worlds problems, if only for a short time. Part of an entertainer's obligation, is to make that a reality for the audience.