La Festa Italiana Celebrates 42nd Year!
The Cameos featured Friday night to open festival

La Festa Italiana will open with a superb act that made its debut performance last year.The Cameos, from New Jersey, are a talented eight-piece Oldies/Vocal Harmony group who create and perform their own unique renditions of the most popular songs of the 1950s. '60s and '70s. They will perform on the Main Stage on Friday, September 1 at 7:00 p.m.
Sunday night performance to celebrate Dean Martin's 100th Birthday
Chris DiMattio and Andy DiMino from Las Vegas will perform as Frank Sinatra and Dean Martin on Sunday, September 3 from 6:00 – 8:00 p.m. DiMattio and DiMino, backed by Kenny McGraw's Brass & Ivory Band, will help to celebrate Dean Martin's 100th Birthday by hosting a musical party for him.
The Infernos to close out La Festa with premier act on Monday, September 4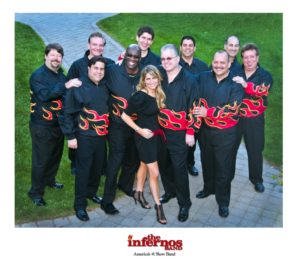 When it comes to music, performance and entertainment no one can do it better than America's #1 Show Band The Infernos. From Oldies to Motown; from steamy hot Jazz to the sounds of today, this band with its rich harmonies, does it all and does it well. On the music scene since 1977, their performances are geared to entertain people from one spectrum to another and The Infernos will have your guest on their feet throughout the concert. In recent years, their fame has grown and they have had opportunities that even the most famous main-stream bands would only dream of including the following performances: for President Barack Obama; three NJ Governor's Inaugural Balls; Concerts in China and Italy; opening for the famed group "Chicago"; and over 200 County and Municipal Concerts;
Newest members of the band are Robin DiLauria and Chris Baamonde who will join fellow band mates Kenny Simmons, formerly of The Commodores, Richie Rosato, former lead singer of The Duprees, Vince Torrell, providing the "Sounds Of Sinatra"; Dr. Joe Sasso, world class guitarist and musical director and Bobby Wells, founder and musical leader. Backed up by a burning rhythm section and the most exciting and talented horn section, The Infernos Band will provide you with a spectacular concert experience.
6th Annual Captain James R. Minicozzi 5K Run and 1 Mile Walk
La Festa Italiana will literally hit the ground running with the James R. Minicozzi Memorial 5K Run/Walk on Saturday, Sept. 2, at 10 a.m. The race is being sponsored by the Scranton Chapter of UNICO, the Italian-American service organization, and proceeds will benefit the Boys and Girls Club of Northeastern Pennsylvania. Pre-registration for the race must be received by August 29 by calling Jack Trapani at 570-878-3780, emailing at unico5k@gmail.com, or sending the $20 entrance fee by check made out to "UNICO National-Scranton Chapter", P.O. Box 278, Dunmore, PA 18512. Registration will also be accepted the day of the race from 8:00 a.m. – 9:30 a.m.
Lackawanna Railfest 2017
Festival patrons are also invited to Lackawanna Railfest '17, hosted by the nearby Steamtown National Historic Site Sept. 2-3. Shuttle transportation will be provided between La Festa and Steamtown. Visit National Park Service for details on Railfest 2017.