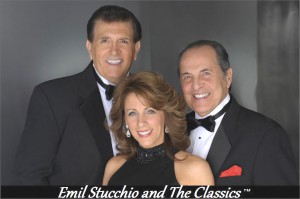 "A certain kind of magic happens when The Classics step onto the stage and begin sailing from one song to another"
Emil Stucchio and The Classics' unique style puts them in a class of their own. They received their recording contract in 1959 and their first release "Cinderella" hit the national Top 100.
They have received national acclaim for their top-selling CDs. Intimate Reflections is a collection of beautiful standards, featuring "Hold Me, Thrill Me, Kiss Me" and "Somewhere". Their Gold Dust CD includes their own songs, along with "Cara Mia" and "You'll Never Know". Embracing the rich music of their grandparents, La Musica D'Italia offers these great Italian favorites: "Statte Vicino Amme", "O Solo Mio" and "Mala Femmina". Their latest CD, Club Illusion, is a collection of all-time favorites, including "Old Songs", "Hungry Years", "For Your Love", "Hurt" and "Wildflower".
The foundation of The Classics is the outstanding original lead voice of Emil Stucchio. Completing the circle of style and blend are Al Contrera (featured on "When You're Smiling" from Club Illusion) and Teresa McClean, lead voice on "You Don't Have To Say You Love Me". To the pleasure of their many fans, Teresa and Emil sing together in "You've Got What It Takes" and "Since I Don't Have You/Only Make Believe", both found on Club Illusion. Their popularity has continued to grow as shown by a recent radio survey, where they were voted 6th most popular out of 500.
With over 50 years of entertainment experience and excellent vocal talents, The Classics continue to receive rave reviews from audiences and producers from coast to coast, including Atlantic City and Las Vegas. The addition of an Italian show adds to the versatility of The Classics, along with the songs and humor, for which they are noted. From Fifties to Standards, from Italian to today's sounds, their shows, complete with outrageous comedy routines, are professional in every way. The Classics add a special touch to every show. They are truly a class act.
Recent performances include New York City's Radio City Music Hall, The Metropolitan Museum, Carnegie Hall and Town Hall; The Tropicana Hotel, The PNC Bank Arts Center and The IZOD Center (in NJ); The Convention Center Arena (in NV), Mohegan Sun Casino and Westport Country Playhouse (both in CT); The Philharmonic Performing Arts Center and The Kravis Center for The Performing Arts (in FL), The Capitol One Theater in Westbury (NY), The American Music Theater (in Lancaster, PA), Crystal Gateway Hotel (in VA), The Paramount Theater (in KY), The Kimmel Center (Philadelphia, PA), Long Island NY's Nassau Coliseum, many luxury cruise lines and numerous national television appearance as well.
The following are comments from various people in the entertainment field: "The Classics brought the house down at the Hawaii Kai!" (David Hinckley); "They knocked my socks off!" (Pat Cooper); "Can't wait to have you back!" (Bill Gatos – Tropicana Hotel); "What a way to start a show!" (Jerry Vale); "Show stopping performance!" (Tony DeLauro); "You guys are a class act!" (the late Richard Nader – producer at The IZOD Center); "Another spectacular show!" (Dick Fox); "I put them up there with anybody; sensational!" (Sal Richards).